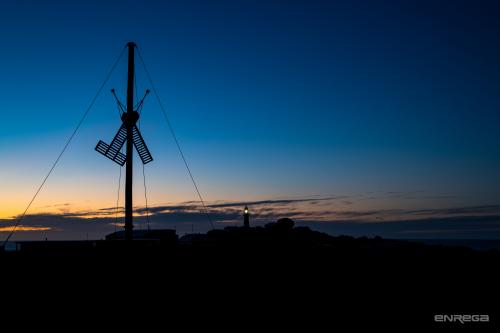 Low Head Lighthouse & Signal Station at dusk
This is photo taken from the Signal Station at Low Head in Tasmania, looking towards the Light House at dusk.
The pilots and a signal station was established at Low Head in 1805 and is Australia's oldest continuously used pilot station. It's current buildings date from 1838.
When a sail was sighted at dusk, a fire was lit and kept burning all night to keep the vessel in touch with the port of George Town. After a review of pilotage in 1827 it was resolved to build a lighthouse at Low Head.
The signal station at Low Head became part of the  Tamar Valley semaphore system in 1835 and the whole network remained operational until 1858. The network consisted of four semaphore masts, located at Low Head, Mt George, Mt Direction & Windmill Hill in Launceston. Each mast was 18 metres high and had a pair of arms 5 metres long which were controlled by chains. Coded messages were sent between the semaphore stations were sent using numbers. Positions of the arms represented different numbers. Flagpoles for flying flags connected the signal stations with port offices in George Town and Launceston.
The distance from the mouth of the Tamar River to Launceston and the difficulties of navigating the river in certain tides and winds, meant that sailing ships could be delayed for days. This caused major problems for merchants and resulted in the development of the signal system to alert them of the arrival or delay of ships in the river.
In 1822, Peter Mulgrave, who had been responsible for inventing a semaphore telegraph system in England, had arrived in Launceston. With Mulgrave's knowledge and strong public opinion the first signal station relay was completed in October 1835 enabling messages to be sent between the port offices in George Town & Launceston.
The port office in George Town would display the message to be transmitted in code flags. These would be observed by the Mt George station and relayed by semaphore to Mt Direction and from there on to Windmill Hill. The message was then converted back to flags for relay to the Launceston Post Office. The system was expanded in 1852 with the addition of a semaphore mast at Low Head which transmitted directly to Mt George.
The semaphore telegraph system was superseded with the advent of the electric telegraph in March 1858. However, reconstruction of the semaphore system was commenced in 1984. The Low Head mast was re-erected in October 1988 on land leased from the Low head Company. The Mt George mast was re-erected in December 1988 with the Mt Direction & Windmill Hill masts being completed in September 2000.