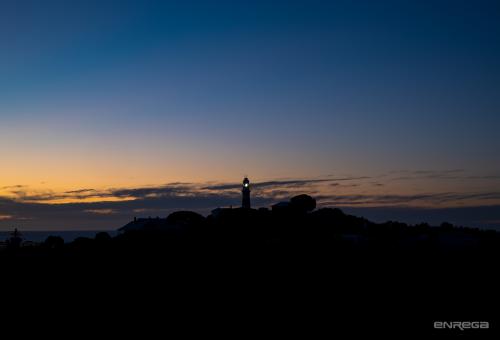 Low Head Lighthouse at dusk
This is a photo of the lighthouse at Low Head in Tasmania, taken at dusk from the hill where the Signal Station can be found.
The Low Head Lighthouse was built in 1833. It was constructed of local rubble with a coat of stucco to make the structure durable and to provide a worthwhile landmark. The crown was built of freestone from Launceston.
The keepers' quarters consisted of four rooms attached to the base of the tower. The only case of the quarters being attached in any Tasmanian lighthouse.
The tower was 15.25 metres from top to bottom. The lantern room was built of timber in Launceston.
It had been designed by the then Colonial Architect John Lee Archer who was responsible for the design of many other Tasmanian lights.
The 1833 tower was poorly constructed and after 50 years had fallen into a state of disrepair. In 1888, this original convict-built stone tower was pulled down.
In the same year it was replaced with the present double brick structure, was designed by Marine Board architect Robert Huckson, with new lantern room and apparatus. The new tower was painted white.
The lens apparatus was modernised in 1916 with a more up-to-date Chance Bros. revolving lens using an incandescent kerosene mantle lantern.
An auxillary red light to cover Hebe Reef had been installed in 1898.
In 1926, a broad red band was painted around the middle of the tower to ensure adequate visibility during daylight hours.
In 1929, Tasmania's only a foghorn was instated at the station but discontinued in 1973 due to improvements in navigational equipment.
In 1940, electricity replaced the old vapourised oil system and mantle, and the clockwork rotating mechanism was replaced by an electric motor.
From 1865 to 1912, the light was under the control of Alfred C. Rockwell and his son Alfred Rockwell Jnr, a period of 47 years!
The station was also responsible for the smaller Tamar Leading Lights which were separately manned for some years.
This light is now unmanned.